Keeping the conversation alive in media blogs
It's really exciting to see the number of blogs that exist today, thousands of voices are talking about every possible topic. Blog syndication and commenting allows readers to subscribe, discuss and carry the conversation further, however, with the different forms of media becoming a normal part of many blogs there's a need to keep this open communication open. Audio and video blogs are forming communities and to encourage conversation the viewers must be able to respond, so we developed a plug-in for WordPress called Video Comments.
What is it?
Video Comments allows you to post video in your blog and allows comments to be made on it in-time. A popup window displays the video and commenting area; as a video is viewed the comments associated with a current video time will be displayed, viewers can also see all comments and jump to a specific point in time. The comment area can accept a comment at given point in the video and saves itself in the existing word press database so no additional configuration is needed. All comments are listed in the individual post as a regular comments (with timecode) and can be easily modified or removed by the editor.

Download the Video Comments plugin!!
(If the above link doesn't work, click here)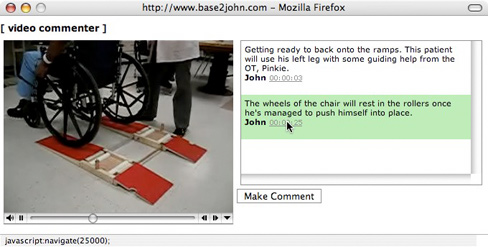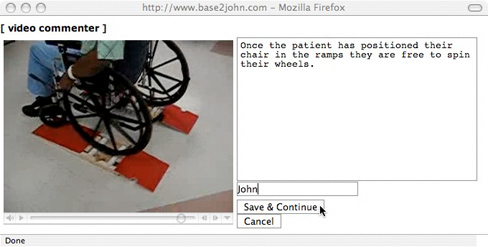 Installation & Using Video Comments
After you have downloaded the video comments plugin:
Unzip the file
Copy the entire folder, videoComments, into your WordPress plugin directory which should be wp-content/plugins/
Log in as admin to manage your WordPress blog, click on Plugins from the dashboard.
Find QuickTime Video Comment listed and click on Activate
To use the video comments in a post type [QT_COMMENTS filename width height]
for example: [QT_COMMENTS funnyguy.mov 320 240]
OR
Use the GUI interface, type in the URL to your video along with the height and width. Optionally put in a URL for an image to display and change the text to the popup link.
Examples:
Keep in touch
Since this plugin is under constant development, we would love if you kept in touch by joining the Video Comments Group on Yahoo
What is next?
Using technologies such as RSS and concepts such as web services, these comments can be aggregated and be made useful to the video blogging community as a whole. When this plugin is downloaded, a user has the option of giving us a link to their blog which we will then crawl and aggregate the comments. Using these comment feeds we are developing algorithms that seek to create a natural keywording mechanism. Currently we have a prototype system that we are calling Video Comment Flavors.
This system seeks to create natural relationships between videos based upon the content of the comments that are left regarding videos on video blogger's sites. Through the Flavor system (which may become a WordPress plugin itself) we hope to expose these relationships.
These systems conceived and implemented by Shawn Van Every, Daniel Shiffman, John Schimmel, Josh Dickens and Dan O'Sullivan. Please feel free to write: Shawn.Van.Every@nyu.edu