June 22, 2012
Konscious Convention Outtakes
In the summer of 2004, ITJ was used to produce two live one hour programs on MNN called Konscious Convention. In that year, the Republican National Convention was in NYC and the streets were filled with protestors while Madison Square Garden was filled with convention goers. We obtained press passes and produced the shows so that our audience could see what was happening, ask questions of the convention goers as well as protestors.
A little while back I was asked to give a talk about some of my past work and I put together some outtakes from these programs. Please have a look: http://www.walking-productions.com/konscious-itj-rnc/KonsciousOuttakes.mov
Posted by vanevery at 12:35 PM
August 10, 2006
ITJ Project Beta Released
We are pleased to (finally) announce the release of the ITJ software on SourceForge.net.
With support from Konscious and Manhattan Neighborhood Network we have packaged and uploaded the latest version and it can be downloaded at: http://sourceforge.net/projects/itv-ism/.
Currently this is a source only release of the project and doesn't include much documentation but here is some information to get you started:
The TeleServer is a server application meant to run on a stable and somewhat fast internet connected machine with a static IP. This application manages all of the client connections for chat and so forth. It is written in Java and there is a simple shell script for starting it up. (ITJ-TeleServer-Beta1.zip)
The WiFiTVChatClient is a client side chat application that works with the above server. It is meant to be run as an applet within a webpage. (ITJ-WiFiTVChatClient-Beta1.zip)
The WiFiTVPlayer is the application that allows for switching between QuickTime compatible streams with the ability to output those streams along with chat messages to a second monitor. This application requires QuickTime for Java (Mac or PC). (ITJ-WiFiTVPlayer-Beta1.zip)
If you are interested in using any of these applications in the production of a show for MNN or any other public access station please contact me: vanevery@walking-productions.com. If you are interested in helping to further develop this project please do the same.
Posted by vanevery at 12:15 PM | TrackBack (0)
October 12, 2004
The Unmediated Weekly Show
Unmediated Weekly Show
The Unmediated Weekly Show is a weekly webcast produced by myself and a bunch of others from unmediated.org that utilizes the ITJ system.
Posted by vanevery at 12:59 PM | TrackBack (0)
The Interactive Tele-Journalism ACM MM Demonstration
Interactive Tele-Journalism ACM MM Demonstration
Today, I am doing a demonstration of the ITJ system at the ACM Multimedia Conference. If you are here between 2 and 3:30 PM EST please feel free to watch.
Posted by vanevery at 12:56 PM | TrackBack (0)
September 07, 2004
Some press for ITJ
RNC coverage: ITJ takes the spirit of blogging to the TV screen
PRWeek.com is running a nice story about our work at the RNC!
Oh yeah, I haven't anything here yet about Konscious.TV. It was 2 half hour broadcasts from in and around the RNC here in NYC featuring ITJ!
Posted by vanevery at 12:48 AM | TrackBack (0)
June 19, 2004
ITJ Coverage at Jan Sawka's Opening
Check it out!
Interactive Tele-Journalist coverage of Jan Sawka's Into the Open opening at ACA Galleries. The event will start at 3PM EST.
Posted by vanevery at 09:41 AM | TrackBack (0)
May 28, 2004
The Tele-Journalist
Here are some shots of TJ Jonny using the tele-journalist system to interview some people: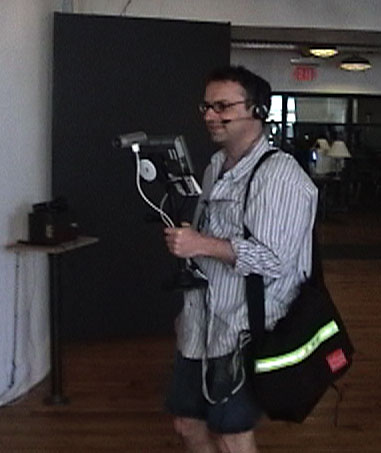 In this image, Jonny is carrying the portable streaming computer in a messenger bag and holding the steady cam rig with camera and touch-screen.
This is a closer image of the same: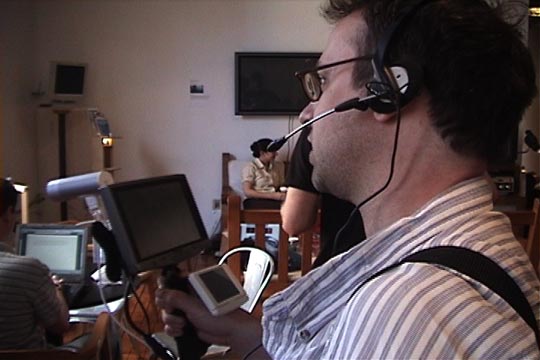 Posted by vanevery at 02:53 AM | Comments (1) | TrackBack (0)
ITJ Thesis Presentation
Here is a video of my final thesis presentation. (Unfortunately, this is a BIG video file, greater than 150 MB. A smaller version, approximately 75 MB is also available. Ok ok, so due to popular demand, an even smaller version, approx. 30 MB is now available.) The slides are online as well if you want to follow along.
Posted by vanevery at 01:56 AM | TrackBack (0)
May 03, 2004
Building a portable, low cost, live television acquisition system for interactive TV production.
The purpose of the following is two-fold; the primary reason is for the appendix of my thesis project, Interactive Tele-Journalism (more information about the project can be found at ITJ's main site. The other reason, perhaps more important, is that I am interested in helping others to get started in the building of low cost and open sourced interactive television production tools. I feel that television needs a nudge in the right direction and that the social nature and power of the internet should be brought to it in the form of small scale community orientated interactive programming.
With that said, let's get started.
In a nutshell, you will need a cheap but powerful single board computer, some RAM, a Firewire/IEEE 1394 camera, a small touch screen monitor, a battery, a hard drive and a WiFi card. Next you will need to install Linux, add in some video capture, encoding and streaming software and your ready to go.
Almost...
Ok ok, so it isn't really that easy.
What follows is a description of the system I built along with information on how I built it and the problems I ran into along the way.
This project started about 6 months ago with the purchase of a Via EPIA M10000 motherboard. I chose the Via EPIA M10000 because several friends have had good experience with them and it seemed an especially nice single board computer with good support for Linux and great extras. It has a plethora of ports including 2 Firewire/IEEE 1394 ports, 4 USB ports, S-Video and composite video out as well as all of the standards such as VGA, parallel, serial, audio in/out/microphone, PS2, PCI and even I2C. This board is also very quiet, small (17 cm by 17 cm), low power (less than 5 amps) and sports a speedy 1 GHz x86 compatible processor. The unfortunate thing about starting with a board like this is that you have to purchase and install everything else and I mean EVERYTHING ELSE.
Continue reading "Building a portable, low cost, live television acquisition system for interactive TV production."
Posted by vanevery at 11:26 AM | Comments (4) | TrackBack (0)
May 02, 2004
ITJ Thesis Paper
In case it isn't apparent, Interactive Tele-Journalism is my Master's thesis at NYU's Interactive Telecommunications Program. I have uploaded my final thesis paper as a PDF and welcome any comments or questions.
Posted by vanevery at 02:12 PM | Comments (2) | TrackBack (0)
February 17, 2004
ITJ Mailing List
Visit this page to subscribe.
It should be a fairly low volume list for the time being as I will generally be using it for announcements but feel free to subscribe and post anything and everything that is relevant.
Posted by vanevery at 01:41 AM | TrackBack (0)