« Recent and relevant | Main | Emerging Technology Presentation »
February 11, 2004
Software Applications
First up are the applications that run on the portable broadcasting unit: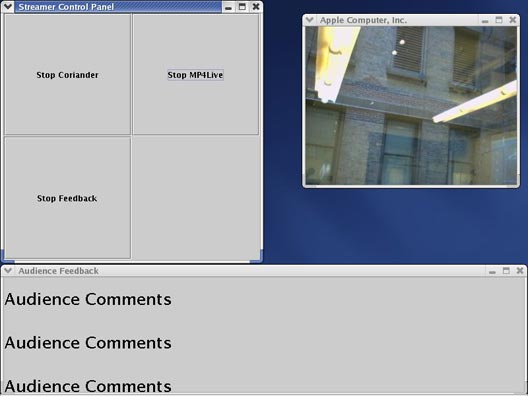 In the above image you see what is displayed on the touch screen monitor that is mounted on the steady cam and is running on the portable streaming computer. On the top left there is a button panel that enables quick launching of the various applications required: MP4Live for streaming, Corriander for camera capture and last an application for viewing the audience feedback. The video window appears on the right and acts as a viewfinder for the tele-journalist. On the bottom is the application that displays the audience comments.
Next is the in-studio stream/chat reception and rebroadcasting application: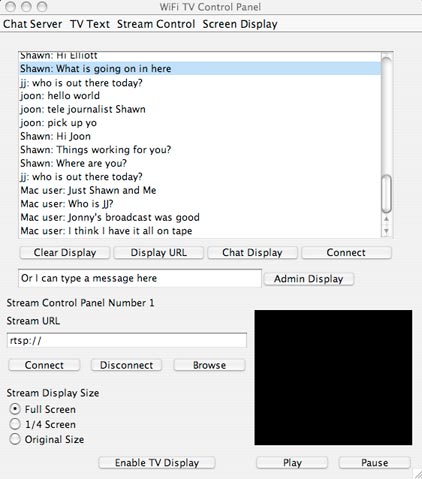 The top portion of this application allows the studio staff to monitor the audience chat and gives them the ability to select messages for display on TV. The bottom portion of the application allows them to select a tele-journalist stream (or live in-studio camera) and switch between feeds.
Here is an example of the television output of the above application: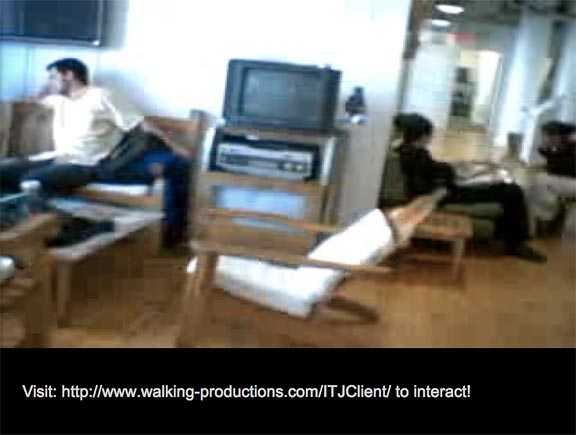 The chat messages from the audience appear at the bottom of the screen and the feed from the tele-journalist takes up the rest.
Last is an image of the simple application that audience uses to interact with each other and the tele-journalist: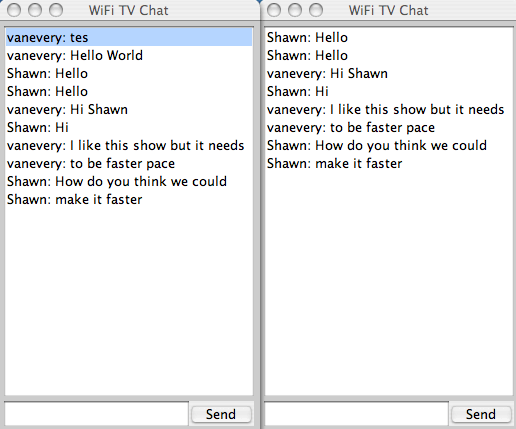 I often leave this application running and you can try it out for yourself
Posted by vanevery at February 11, 2004 03:44 AM
Trackback Pings
TrackBack URL for this entry:
http://www.walking-productions.com/scgi-bin/mt/mt-tb.cgi/481